PARIS, FRANCE
20TH INTERNATIONAL SOCIETY OF HYPNOSIS CONGRESS
AUGUST 26-29, 2015
Bienvenue-Welcome-Bienvenido- Velkommen- Tervetuloa-Benvenuto-Wilkommen
Paris, City of Lights; where the first seeds of the International Society of Hypnosis (ISH) were planted in 1889. The 2015 ISH Congress will provide you with an opportunity to visit this beautiful city and discover what these seeds have grown into…
Have you always wanted to visit Paris? Or if you have visited in the past, return again to this beautiful city? You will have a chance to do so in August of 2015! The City of Lights will host the 2015 International Society of Hypnosis 20th Congress. Located in the city's center, the large and modern congress hall will give us a wonderful venue to meet, study, and learn together. We will return to the city where hypnosis captured the interest of scientists around the world in 1889. Paris was home to Charcot, Liebault, Janet and countless others who studied hypnosis and left their mark on our field. We expect to attract registrants and faculty from over 40 countries. Simultaneous translation will be available in at least 3 languages (French, German, and English) to facilitate learning.   This is your chance to see the Eiffel Tower, the Louvre, and the exquisite Town Hall (the congress Banquet will be hosted there). Start planning now for this opportunity of a lifetime. We look forward to seeing you there!
Registration is now available. Visit  http://www.hypnosis2015.com/ for more information.
Download a PDF of the schedule here:
Thursday August 27, 2015
Friday August 28, 2015
Saturday August 29, 2015
Videos and demos
Symposia
Workshops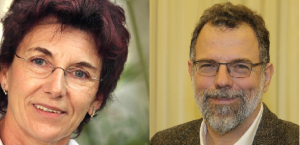 Marie-Elisabeth Faymonville and Mark P. Jensen
Co-Organizers of the 2015 Hypnosis Research Update Conference
2015 Hypnosis Research Update Conference
The ISH board of directors and the 2015 ISH World Congress organizing committee are pleased to announce that a one-day hypnosis research update conference will be held on August 26th in Paris, just before the 2015 ISH World Congress.
The idea for this conference grew from the recognition that there are a handful of scientists around the world who are actively addressing important questions regarding the effects and mechanisms of hypnosis as a part of their research programs, yet there are limited venues for discussing these findings with other scientists who are also studying hypnosis and related phenomena as a result, many scientists present their findings at scientific conferences that might not include as participants some of the best scientists studying hypnosis.
For example, the handful of researchers who are studying the efficacy and mechanisms of hypnotic analgesia normally present their findings at national and international scientific pain conferences. While they may get an enthusiastic response to their findings from pain researchers, they do not get the kind of feedback or scientific interaction that helps them push their thinking forward regarding hypnosis, because the scientists at these meetings are not hypnosis experts. Currently, there are no international meetings that leading hypnosis researchers consistently attend where they can present their newest research findings and obtain critical feedback and scientific discourse about the state of the field.
Given that important components of ISH's mission are to "…stimulate and improve research, discussion, and publications pertinent to the scientific study…of hypnosis," "…encourage cooperative relations among scientific disciplines with regard to the study… of hypnosis" and "…promote scientific events…about hypnosis", the ISH board thought to address this problem by one-day conference that would address these goals. Our plan is to have an intimate meeting of a small group of 10 to 12 hypnosis researchers whose work is on the cutting edge of the field; to give them an opportunity to present their findings to other hypnosis researchers, and facilitate discussions that would move the science of hypnosis forward.
The theme of the conference is "Neuroscience and Hypnosis: Implications for State and Non-State Views." As of mid-March, 2015, eleven scientists have agreed to participate in the event (Wolfgang Miltner, PhD, Germany; Graham Jamieson, PhD, Australia; Christian Rominger, PhD candidate, Austria; Devin Terhune, PhD, United Kingdom; Giuliana Mazzoni, PhD, United Kingdom; Athena Demertzi, PhD, Belgium; Patrik Vuilleumier, Switzerland; PhD, Éva Bányai, PhD, Hungary; Vilfredo De Pascalis, PhD, Italy; as well as the event's co-organizers, Mark P. Jensen, PhD, USA, and Marie Elisabeth Faymonville, MD, PhD, Belgium).
The event will be organized to allow for 40 minutesfor specific participants to discuss their newest research findings with the group, and also have time set aside for a general discussion of the findings. The meeting will result in a final report that will be available to ISH members, the primary findings of which we also plan to submit for publication. We are also planning for the meeting to be videotaped, so that ISH members and students can have access to the presentations and discussions.
We anticipate a highly successful conference that will provide a forum for new hypnosis research findings and facilitate international communication and future collaborations. The ISH Board of directors will evaluate the meeting, and use this evaluation to plan another similar event at the 2018 World Congress, or even consider a stand-alone international hypnosis conference that focuses on the science of hypnosis sometime sooner. We are very excited about the benefits that this and future similar meetings will have on improving our scientific understanding of the effects and mechanisms of hypnosis.
For more information:
http://www.ishhypnosis.org/triennial-congress/invitation-to-congress/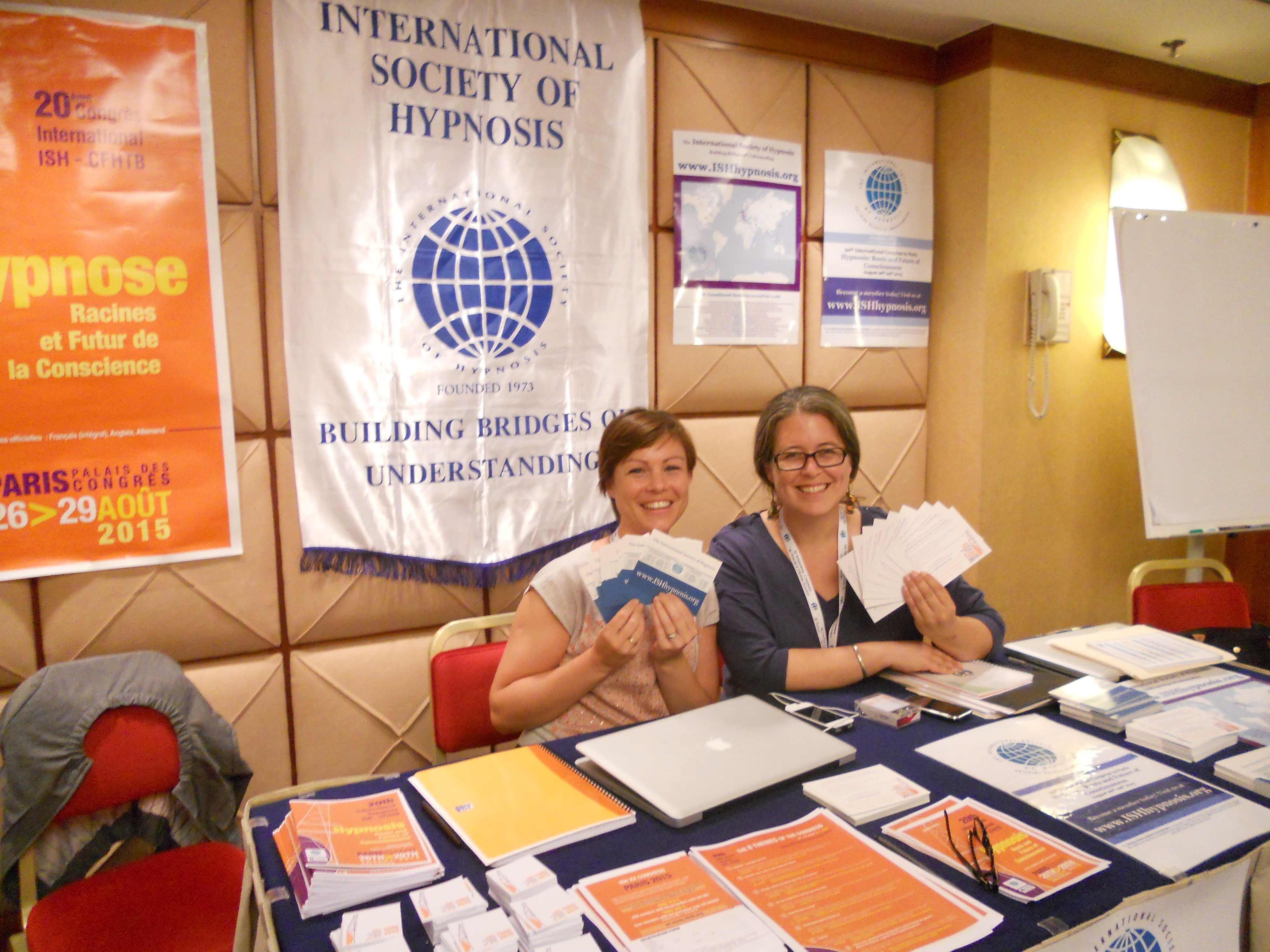 Amélie Jouvin-Pillevesse & Gail Cunningham
CFHTB & ISH hard at work getting members and registrations for Paris 2015!
Special Membership Offer – 2 years for the price of one!
Click for details.