The International Journal of Clinical and Experimental Hypnosis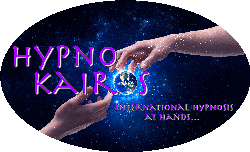 A new born : HypnoKairos
http://www.hypnokairos.com/en/
A few days ago, the doors of the 'Palais du Grand Large' in Saint-Malo have just closed on a muffled silence. The illuminated footlights of the 'Chateaubriand' lecture hall are still cooling down and listening to the past emotions rebounding to life on the walls… This 6th international congress on 'Hypnosis and Pain', which was organized by Emergences Institute, has come out to be the cradle of your new International Hypnosis Journal entitled 'HypnoKairos', pure coincidence (or not that pure, is it !). Conceived during lunch at home and throughout a series of chaotic events, this idea has finally required 3 short weeks, numerous friends and international colleagues to simply come to life in the presence of the people attending the congress. First of all Stephanie, my partner in life, attentive to this wild idea, and then Jean-Francois Marquet, Richard Gagnon and Kenton Kaiser, have accepted to join me on this project in a matter of hours. Claude Virot has immediately brought his moral and logistic support in becoming the head of the International Scientific Committee Then came in thirty six hypnosis practitioners from all around the world to blend up this committee. Among them are 'celebrities' who have been sharing their knowledge with us for many years. They have taught us everything. There are also younger ones, rising stars for the future of the profession; the ones who should write the roots of the future.
The ancient Greeks have given a name to such moments when everything can change, this fleeting moment. It is Kairos and is embodied by a young man wearing a tuft of hair on the forehead. When you come across him, either you don't see him, either you see him and do not do anything, or you grasp his tuft of hair and then life changes. Something happens. A split second to decide, act or live with remorse and regrets. During a simple lunch at home, as often in life, and provided that one is attentive, it was a moment of Kairos. I cannot bring myself to ignore these opportunities, therefore the Journal should bear this name. We have fully grasped this second. When one wants something, when one believes in something, everything can come true if one gives oneself the means. Even if the initial response are, for some, to always see the impossible and the obstacles, all this merely brings incentive, acceleration and energy.
Your international therapeutic hypnosis webzine, the very one of its readers…
-An editor: Franck Garden-Brèche
-An editorial committee with Richard Gagnon (Québec), Kenton Kaiser (Belgium) and Jean-François Marquet (France).
-A scientific committee, gathering famous hypnosis practitioners in charge of specific theme as acute and chronic pain and diseases, psychiatry, odontology, maternity:
Philippe Aïm (France), Jean-Marc Benhaiem (France), Gaston Brosseau (Québec), Isabelle Célestin-Lhopiteau (France), Sophie Cohen (France), Jérémy Cuna (France), Stéphanie Delacour (France), Stéphanie Desanneaux-Guillou (France), Gérard Fitoussi (France), Tony Fournier (Québec), Marc Galy (France), Christine Guilloux (France), Yves Halfon (France), Michel Landry (Québec), Guillaume Mathé (France), Hervé Musellec (France), Myriam N'Ciri (Marocco), Emmanuel Repingeon (France), Armelle Touyarot (France), Alain Vallée (France) for the French speakers and Brian Allen (Australia), Susanna Carolusson (Sweden), Consuelo Casula (Italy), Giuseppe de Benedittis (Italy), Mickhail Ginsburg (Russia), Mark Jensen (USA), Shaul Livnay (Israel), Maria-Laura Fasciana-Loriedo (Italy), Camillo Loriedo (Italy), Ali Ozden Ozturk (Turkey), Teresa Robles (Mexico), Nicole Ruyschaert (Belgium), Enayatollah Shahidi (Iran), Bernhard Trenkle (Germany), Katalin Varga (Hungary), Martin Wall (UK) for the English and other languages speakers.
-Top-rank international partners on each continent
-Authors, only health professionals, all motivated to share in different languages, their practices, their experiences, their encounters
On the web, with a computer, tablet, and smartphone format in PdF, each paper presented will be approuved by the international scientific committee, gathering all the best specialists in hypnosis at this time.
Multimedia, Kairos will also offer demonstrations videos, interviews, conferences, keynotes from congress with the approval of their authors.
It will be a source of inspiration, available 24/24 7/7 365/365, all over the world
A fountainhead of exchange and a way to share among the scientific community of hypnosis, brief and solutionist therapies.
After the scientific committee validation:
-The researchers will have a dedicated place to present their discoveries in neuroscience
-Clinicians will have their space to present and exchange about their practice
-and rising stars will also have a place to express
Now, dear ISH member, you can become an HypnoKairos member too, filling the form here, and our Scientific Committee is waiting for your papers proposals to be send to publications@hypnokairos.com
The future life of HypnoKairos is in your own hands.
We need you !
Thanks for what you are going to share worldwide…
Franck Garden-Breche